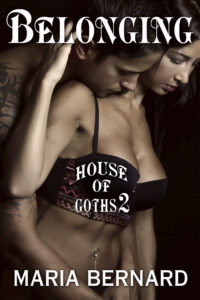 Belonging by Maria Bernard
House of Goths Series, Book 2
Starring Gwen Mathewson and Crispin Clover 🌹💛🌹
Find your soulmate, find yourself…
Tempers flare, and passions ignite when a soul searching getaway gets hijacked!
English Literature is Gwen Mathewson's passion. She lives vicariously through her favourite Victorian novels. She dreams of travelling to England, the source of her obsession and has the whole trip planned on a detailed itinerary kept close at hand. The trouble is, she suffers from extreme anxiety. Gwen wants to chase her dreams but is trapped by her crushing fear of the unknown.
When a stunning man resembling her Victorian literary heroes enters the shop where she works, Gwen feels an instant connection. She can't keep her heart from racing. He, on the other hand, has eyes only for her itinerary.
Crispin Clover is a tortured singer, desperate to get away from his clingy bandmates. But he doesn't have a plan. When he discovers Gwen's detailed itinerary, he makes her an offer she can't refuse. Little does Crispin realize his soul searching getaway is about to get hijacked.
Amazon
Sample the first few chapters!
Ready for something different?
Check out –  The Balcony!