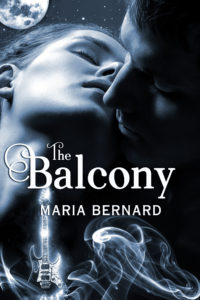 The Balcony
Paranormal Romance
by Maria Bernard
Rockstar Romance with a Paranormal Twist
Starring: Emma, Wraith, Phantom, and Angel
Excerpt: © 2015 The Balcony
"They crave attention," Wraith said, looking back at her. "For some reason, you captivate them." Some reason indeed, he realized, all too aware of her obvious feminine attributes, her shapely legs, the curve of her hips, the softness of her skin. "Perhaps you could try and ignore them, pretend they're not there."
In this unforgettable tale of loss and redemption, Emma is at her wits end. Having just moved into her first apartment in the Hollywood Hills, the intimidating characters next door are more than she bargains for, especially since her balcony, the very reason she rents the place, is situated right next to theirs.
Wanting to be left alone to wallow in self-pity, soul-destroyed rocker Wraith is at the end of his rope. The last thing he needs to deal with is his sexy new neighbor's undeniable presence, something that he and his notorious bandmates have gone without for way too long.
When their annoying flirtations get out of control will Wraith finally find it within himself to step in or will he do nothing much like he's done with his life these last two years? Will he become the hero that Emma desperately needs or is there more to this situation than meets the eye?
Buy Links:
Amazon:
US   CA   UK   AU

Apple Books
US   CA   UK   AU
---
Reader Reviews – WOWZER
What an awesome story of loss, pain and love! Emma is craving her independence and rents the perfect apartment. As she settles in she meets her neighbors next door who are very invasive to her privacy and appear at the most unwelcome times and places like her bedroom! She finds out they were once rockstars which explains their long hair and tattooed look. The twins, Phantom and Angel, do have a secret……they are ghosts! The third nighbor, Wraith, is real but falling deeper into depression every day. Can Emma save him? You have to read this story to find out! You won't regret it!
Amazing read! Maria Bernard is an exceptional writer
Great read! I love the flirting and sexual tension between the characters! If you are a rocker fan, this is the book for you!
I absolutely loved this hauntingly beautiful story…
I absolutely loved this hauntingly beautiful story of selflessness, love and redemption, of the death and rebirth of the human spirit. Melancholy and bittersweet, The Balcony is breathtakingly poignant. In this day and age, no one captures that elusive, true gothic essence quite like Maria Bernard. It's everything that great gothic romance should be. As with all of Maria's stories, I felt so comfortable with all of the characters that I didn't want to leave them when I reached the end of the book.
Loved this book so much!
I have read quite a few books by this author and this is my favorite one. Such a beautifully written story. Wraith is a tortured soul who steals your heart, well at least he stole mine. To me the characters just jumped out of the book and grab you from the beginning. Once you pick it up you really can't put it down. I highly recommend this book. Well done hon!!
---
---

Want to read the book?  Get it here:
Amazon:
US   CA   UK   AU

Apple Books
US   CA   UK   AU
♡༻♫༺♡༻♫༺♡
Ready for more rockstar romance?
Check out – The Stick Shift Lips!