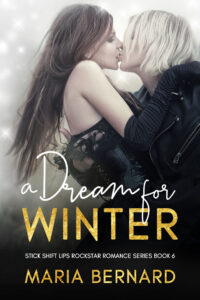 A Dream for Winter
by Maria Bernard
Stick Shift Lips Rockstar Romance, Book 6

• May be enjoyed as a stand alone read.
Drawn together by a mutual threat, two lonely souls find solace in each other's company.
Carlie…
Who is he and where does he come from? What's his story, and what's with all the black? He hides in corners and makes no eye contact. He slinks in the shadows, with no place to go. He doesn't think I see him, but I always do. I don't feel quite so alone when he follows me home.
Sage…
The world is dreary and my cold heart is weary. Reasons for living are far and few. Much of my world has died and gone. Only blackness and rage live on. My sole purpose is my music. My guitar, my only friend. This world doesn't understand me. I don't belong. Until the girl with the red mittens came along.
Sage is a mystery even unto himself. The world doesn't understand him, and that's just fine as far as he's concerned.
Carlie dreams of Christmas trees and family dinners. On her own for the first time, she dreads the long and lonely nights of winter.
When their contrasting worlds collide, they find in each other what they lack on their own… acceptance, passion, and love.
Want to read the book? Get it here:

Excerpt: © 2014 A Dream for Winter
"I know, but their hearts were in the right place. They didn't want me to be left alone," she said with a sigh.
"Well, you're not alone now," he reminded her, reaching for her hand.
"I know and I still can't believe that you're here with me," she said, looking at his perfectly straightened blonde hair, his intricate ensemble of black layers. "What time did you get up anyway? How can you be so polished and put together in all your gothy gloriousness when I haven't even gotten a brush through my hair yet?"
"Don't worry about that," he said with a crooked smile. "I love this whole tousled look of yours. Remember, opposites attract."
"Tousled?" she repeated, self-consciously.
"Yeah I love it," he said, laughingly. "You're like a cute little wild animal with your big brown eyes."
"You're being silly," she said, playfully feeding him a bit of her pancake.
"Mmm fingers." He nibbled on her fingertips.
"That tickles," she giggled, enjoying the feel of his warm wet lips. "Do it again," she said, holding out her hand.
"Tasty…" he murmured, nibbling on all five fingertips. "You like that, don't you?"
"Uh huh…" she said, closing her eyes. "Don't stop."
"What if we dipped them in a little syrup?" he suggested, as he traced her fingers around his plate then put them to his lips again.
"Yes…"
"What if we put a little syrup on your lips?" he said, encouraging her onto his lap.
"Yes…" she said, as he dipped his fingers into the syrup and traced them over her mouth.
"Oh, yes…yes…" he said, sucking on her bottom lip.
♡༻♫༺♡༻♫༺♡
Want to read the book? Get it here:
Amazon Reviews:
5.0 out of 5 stars ★ ★ ★ ★ ★
A Perfect 5 Guitar Christmas Read 
By LaDonna on December 21, 2015
Format: Kindle Edition
I have admittedly fallen completely in love with Maria Bernard's writing style, and this book may rank amongst my favorites. This is a bit of a different read from Ms. Bernard, a little darker, but still a very sweet romance, and, as always, includes a band.
Sage is one of the most unique literary heroes I have come across in a very long time, but I almost immediately fell in love with him. Dark and brooding, a lone goth-esque speciman of near perfection with his naturally platinum blonde hair and searing green eyes. Sage has a very unique view of the world, though no one in the world has ever seen him, and accepted him as his true self….not until he meets the cheery and beautiful, and more than slightly naive and shy barista, Carlie. Carlie is light and goodness for every dark and brooding corner Sage hides pieces of himself in.
The almost painful shyness of each of them, and the loneliness they have each surrounded themselves with, makes their thought processes extremely unique. The thought that there is someone out there for everyone is proven in this book – these two are so amazingly perfect for each other no matter how opposite they may seem to any outsiders looking in, but we all know where assumptions get us.
The tie in with Stick Shift Lips is very slight, much less than in Dream Crush, but that in no way detracts from this fantastic story in anyway. The tie in is rather fun, but the book certainly stands up without it.
For adult audiences only for fairly explicit sexual content (and seriously fun!) and violence. My highest recommendations for any one who has ever felt like an outcast at any time for any reason, and an absolute do-not-pass-go-go-directly-to-one-click for anyone who has felt the magic of Christmas hen their partner absolutely does not. There is hope for those of us who have chosen to spend our lives with Grinches! I cannot say enough good things about this; I loved every quirky character, every awkward moment, every dark thought and cynical notion of Sage's, every happy, bright and playful action of Carlie, and certainly every single spark of chemistry between Sage and Carlie. Thank you, Maria Bernard, for the perfect Christmas read – it took almost all of my holiday grumbles and grumpies and grouchies away.
♡༻♫༺♡༻♫༺♡
5.0 out of 5 stars ★ ★ ★ ★ ★
You cant help but fall in love with Sage
By Renee on June 29, 2015
Format: Kindle Edition
This book took me through so many emotions! Couldn't put it down. You cant help but fall in love with Sage! The way its written, well, you feel like your in the book with them. Great read!
♡༻♫༺♡༻♫༺♡
5.0 out of 5 stars ★ ★ ★ ★ ★
Loved this latest installment to the Stick Shift Lips universe
By Kelly Gunter Atlas on October 27, 2014
Format: Kindle Edition Verified Purchase
Loved this latest installment to the Stick Shift Lips universe! It was like a beautifully modern gothic urban fairy tale set at Christmastime. Like all the Stick Shift Lips books, the characters draw you in with their complexity, vulnerability and endearing quirks.
♡༻♫༺♡༻♫༺♡
5.0 out of 5 stars ★ ★ ★ ★ ★
Oh Maria, you've done it again!!
By Teresa Jensen on October 19, 2014
Format: Kindle Edition Verified Purchase
I love the Stick Shift Lips boys and this book brought them together with a new favorite, Sage. He lost his very wealthy parents in an accident a few years earlier and blames his father's ambition for their death as they were on their way to a work event. Sage always felt his father put his success before his son. So Sage closes up the house and the cars and refuses his father's money.
The story of love and pain starts as Sage and Carlie, neighbors unknown, meet in the coffee shop where she works. He always sits quietly and writes songs in his notebook for hours. Little does she know, he lives across the hall and has been following her to keep her safe from his roommate. Sage has been beaten by his roommate who thinks he is gay because of his eccentric Goth look. He also has saved Carlie more than once from Derrick, as he is a pig who thinks that because she is shy and doesn't respond to his flirting that she is also gay. Derrick is racist and violent and Sage and Carlie have confrontations with him and his friends more than a few times. Finally after Sage threatening to kill him, Derrick moves. Sage moves in with Carlie and a romance blooms. After a pending eviction and no money for food, Sage finally has to make a decision. A band, a mansion, a recording company, a music store, and a proposal and their lives change completely. I love this book and hope to be reading many more stories about this group. Maria ROCKS.
♡༻♫༺♡༻♫༺♡
5.0 out of 5 stars ★ ★ ★ ★ ★
Complex characters, excellent setting, beautiful romance.
By Kristy Centeno on April 10, 2016
Format: Kindle Edition Verified Purchase
I was first introduced to Maria Bernard's work through House of Goths. I really liked the premise and going into it, I was intrigued by the characters and the story itself. Naturally, I wanted to read more by this author, since I tend to delve into other stories when I develop a particular liking to an author's style.
I came across A Dream for Winter and was overjoyed to realize this tale was slightly different from other books by Maria Bernard. I loved that the male lead was slightly more naïve than the heroine, but it broke my heart that he was going through so much, and had been putting up with things that no one ever should. Carlie was Sage's little ray of hope.
Both Carlie and Sage are strong characters in very different ways. Sage is clear on who he is, and what he stands for, but has been unsuccessful in being accepted. He's had years of dealing with public rejection yet he continues to be himself, never once changing for anyone. Carlie is cheerful as she is reserved, but somewhat open-minded. But unbeknownst to her, she's the rock that keeps Sage going.
The romance between these two is sweet at first, but things pick up fairly quickly soon thereafter. I thought it was very creative to have the male lead be less experienced than the heroine for once. With a few twists to the plot, we have a great romance that will keep you turning the pages.
By the second chapter I was emotionally invested in this book, and couldn't put it down. I think it took me a day to finish it, but I loved it.
♡༻♫༺♡༻♫༺♡
5.0 out of 5 stars ★ ★ ★ ★ ★
YOU MUST READ THIS BOOK!
By Caryn Denny on August 18, 2015
Format: Kindle Edition Verified Purchase
WOW!! I devoured this story in one sitting! Carlie, a young woman living on her own, has a neighbor from hell. Sage, a handsome and eccentric young man, lives with the neighbor from hell but Carlie has never met him. Both are bullied incessantly by the guy but in Sage's case the bullying becomes physical. Every day Sage sits in the coffee shop where Carlie works; it is his safe haven from his violent roommate. Carlie is intrigued by his eccentric goth appearance and wonders about him. One night she hears strange noises outside her door……shuffling and then scratching on her door. Frightened she doesn't open her door but then she hears a male voice whisper "Miss…..can I please have a refill?" Carlie gasps in shock and thus begins one of the sweetest romances I have ever read! Please PURCHASE and read this story. The whole series is awesome….thanks Maria Bernard!
♡༻♫༺♡༻♫༺♡
5.0 out of 5 stars ★ ★ ★ ★ ★
Yet again Maria has managed to come up with two leading characters that you just can't help falling in love with.
By Mrs. A. Christie on 9 July 2016
Format: Kindle Edition Verified Purchase
What can I say? Yet again Maria has managed to come up with two leading characters that you just can't help falling in love with. For anyone who loves her 'Goth' series and the 'Stick Shift Lips' boys, Sage will be right up your street. He's a secretly rich, lonely, lonely guy who finds a safe place in the local coffee shop to write his songs/poems, away from the violent room mate who just doesn't understand his uniqueness. Oh, and the other thing that is a definite pull for him, is the very lovely Carlie who works in the shop. Through a series of misunderstandings, late night stalking and an injured guitar, these two people meet and fall in love.
Oh, and there's a fair amount of heavy breathing, and general HOTNESS as well, so only mature-minded adults should read it! /I really enjoyed this book, there is a slight tie in with the Stick Shift Lips, but if you haven't read the previous books you will still enjoy this one (although you should read books 1-5 and they are fantastic)
Thanks Maria for another great read xx
Want to read the book? Get it here:
♡༻♫༺♡༻♫༺♡
Loving the Goths? Want More?
Check out –  House of Goths
Check out –  These Bones Romance Series!