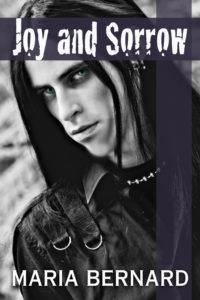 Joy and Sorrow
by Maria Bernard
These Bones Romance Series, Book 2
Two young lovers face one of life's most challenging situations together, the death of a parent.
Darien River is the gorgeous and charming lead guitar player for These Bones, a local goth rock band.
Faith Cromley is an extremely shy introvert. She works at Dave's Music Shop and does her best to avoid the intimidating clientele. Hiding away in her relatively quiet classical instrument department suits her just fine.
In a twist of fate, these two contrasting individuals are thrust together. Their mutual attraction is undeniable.
Unfortunately, their budding romance gets thrown off track by  tragedy. Is love enough to sustain them? Can their relationship survive the emotional upheaval? Will they stick it out through joy and sorrow?
---
Joy and Sorrow Reviews

5 Gothy Guitars for Joy and Sorrow
I can't say enough good things about Maria Bernard's writing style, and particularly her Goth boys in These Bones. Admittedly, I had a preconceived notion, not sure where it came from, that Darien would be my least favorite of the bunch, but I was quite pleasantly surprised as I dug into this one, a bit in the midst of my own joy and sorrow. Maria is one of those very rare authors that I know I can count on when I need a sweet, heartfelt story with a happy ending (and those hot musicians I love so much.) I can't begin to thank Ms. Bernard enough for the comfort that brings.  *Easily 5 romantic, sweet and sexy stars for this one.
Joy and Sorrow is a beautiful – Joy and Sorrow is a beautiful, sweet and poignant story of romance and heartache. Darien is the epitome of an old-world gentleman. Sophisticated and well-mannered, confident and charismatic, he is a classic white knight dressed all in stylish black. Faith is shy and has led a sheltered life. Although she is innocent and inexperienced, she is not naive. She has known both joy and sorrow Their story is a dance of instant connection and worlds colliding, new discoveries and old memories. It is full of joys and sorrows, hopes and dreams. It is a wonderful story of lasting love.
Another winner from Maria – 
I have always enjoyed Maria's books and the characters she creates. The men are hot and always so kind and articulate. I appreciate steamy scenes and her's are fabulously sexy, but not nasty. This story is sweet, the Goth guys are so polite and old worldly. Darien and Faith are so different, but fell so quickly for each other. He has experience with women,being in a band. Faith has none, he is her first. She is taken aback by his admission of how many one nighters he has had, but Faith soon gets over it and is thrilled by his knowledge. A brilliant book, a brilliant writer. Can't wait for more!!
Want to read the book? Get it here:
Smashwords   Kobo   B&N   Google Play

Ready for more?
Check out the next in series!
Bleed Out Your Heart – Book 3