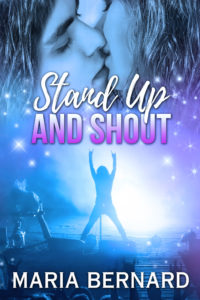 Stand Up and Shout
By Maria Bernard
Stick Shift Lips Series, Book 7
Claim your destiny, or crash and burn! 🎸
Jay Sharp would rock the mic with the best of them, if not for his crippling stage fright.
Alice Electra, a gifted guitarist, is living on the street, busking for money. A chance discovery leads her to Jay's struggling band. Romance blooms between Jay and Alice, but not all the band members are impressed with the young runaway.
Now, Alice and Jay must face their greatest challenge: a massive Vegas festival. Will they turn their lives around, or will they crash and burn?
Excerpt:
 "I can't deal with that punk today," Ashton groaned, resting his head, making a pillow of Chloe's breasts. 
"Ashton, I'm sure Jay feels just as awful about it."
"Why do I care? Why do I even bother?" 

"Because deep down you still believe in him. And so do I. I've seen him perform. I've heard him sing. You have a gift for recognizing true talent and I believe in you more than anything."
★ ★ ★ ★ ★
★ ★ ★ ★ ★
If you've read my Stick Shift Lips Series all the way through, you'll remember young Southern Jay from Dream Crush, LA Summer. Poor Jay, he went through the ringer in that story. But no worries, Ashton Wright, frontman of my headliner band, lovingly referred to as the SSLs by readers, took a real liking to Jay and recognized the true talent behind the stage fright. Others may have given up on Jay, but not Ashton. He's taken him under his wing for the last few years. Now, hopefully, all Ashton's hard work and mentoring will come to fruition when he takes a giant leap of faith and signs Southern Jackass (Jay's Fledging band) up for a huge rock festival in Las Vegas of all places! Suffice it to say, Jay is scared shitless! But not that he would ever admit it out loud.
Worst part is, Southern Jackass is slated to be opening band to take the stage on Friday afternoon at the Get Rocked in Vegas Music Festival!
What-the-what????
Now the real question is, will Jay freeze up again like that tragic night in LA? Oh, and did I mention that not only will the world be there to watch him sing and possibly make an ass of himself, the entire band of the ultra-successful Dream Crush ► Sofia, Jet, Jack and Paul will be there too!
Trust me! This is a nightmare for Jay. The pressure is on! Not only for Jay, and Ashton, but for Jay's band, Southern Jackass. Alex, bassist, and Luke, drummer are about ready to kill Jay. Thankfully, Jay's got an angel on his side. Enter Alice Electra, gifted guitarist who isn't afraid to kick Jay in the nuts to get the job done!
*While Stand Up and Shout is a spinoff in the Stick Shift Lips Series, it can be enjoyed as a Stand Alone story. For more information on the Stick Shift Lips Series Click Me.
*Stand Up and Shout was previously released as part of the Get Rocked In Vegas Boxed Set. 
★ ☆ ★ ☆ ★ ☆ ★ ☆ ★
Amazon Reviews
T Jensen
5.0 out of 5 stars
Love this series.
February 14, 2018
Format: Kindle Edition
Verified Purchase
Oh, so happy to have a new SSL book. Maria is such a great author. I enjoy her slightly odd rockers and their women. The SSL guys have such strong personalities, but each have such huge hearts. This new group, signed to the SSL label has struggled, but now have their chance. More please.
Shari T
5.0 out of 5 stars
Another great installment from the Stick Shift Lips
February 14, 2018
Format: Kindle Edition
Verified Purchase
Great story by Maria Bernard. I've loved this series from book #1. Jay and Alice have the same chemistry as the previous couples in this series. So smoking HOT!
Shelley
5.0 out of 5 stars
It was a fun read. Jay Sharpe is a great singer
February 14, 2018
Format: Kindle Edition
I read Stand up and Shout as part of the Stick Ship Lips series. It was a fun read. Jay Sharpe is a great singer. But he has awful stage fright. Then he meets Alice. She helps him with the stage fright. I would recommend this series to anyone. Maria Bernard is a great writer. I look forward to more of her stories.
★ ☆ ★ ☆ ★ ☆ ★ ☆ ★
Buy Links:
Kobo:  US  CA  Smashwords  Nook