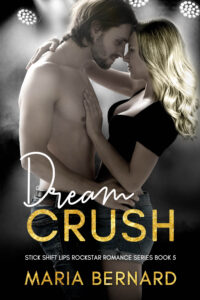 Dream Crush, LA Summer
by Maria Bernard
Stick Shift Lips Rockstar Romance, Book 5
• May be enjoyed as a stand alone.
It's not about chasing the dream. It's about becoming the dream.
Jet is a hot rock and roll dreamer. He and his bandmates, Jack and Paul are all about hitting the big time in LA's rock scene. College grad, Sofia has led a sheltered life. She's excited about her first vacation away from home with her best friend Janine, and her sexy buddy, Jet. On the way to the airport, Janine drops out at the last minute. Now what? Does she stay behind or does she go with the guys?
Buy Links:
Apple Books
US   CAN   UK   AU  | Smashwords | B&N  | Kobo


Reviews

5.0 out of 5 stars
★ ★ ★★ ★
So sweet and a little awkward
By jodi on September 4, 2016
Format: Kindle Edition|Verified Purchase
I smiled a lot reading this story, the characters are all 21 and I felt like I was right there with them. It took me a little while to warm up to the characters, but getting to know them is worth the time. I especially enjoyed Stick Shift Lips arrival in the story.
 ♡༻♫༺♡༻♫༺♡

5.0 out of 5 stars
★ ★ ★★ ★
Format: Kindle Edition
Verified Purchase
I love the SSL guys and wives. This book is a perfect spin off of the rockstar romance with new players. The characters are wonderful and the band ROCKS. Ashton is his usual caring and generous self and Chloe helps Sofia make her decision when she is signing with the band. It was great to have the whole group involved in this story, the merchandise design, the interview with Kayla in the paper, and the recording of their first CD. I love this series and can't wait for more!! Maria kicks ass with this book!!!
♡༻♫༺♡༻♫༺♡

5.0 out of 5 stars
★ ★ ★★ ★
Loved this book
By Renee on June 29, 2015
Format: Kindle Edition
Loved this book! Feel in love with every single character! From Jet the Romantic to Jack the insane. 😉 Couldn't get enough and cant wait for the next one in the series!
♡༻♫༺♡༻♫༺♡

5.0 out of 5 stars
★ ★ ★★ ★
Another great book by Maria
By Janet A. Mota on May 9, 2015
Format: Kindle Edition
Another great book by Maria! Rockstar fans will love it! No detail is left out of this book! I loved it and can't wait to read more!