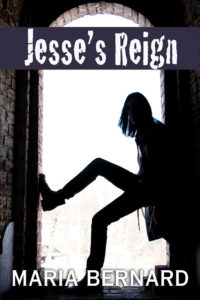 Jesse's Reign
by Maria Bernard
These Bones Romance Series, Book 4
What would you do if you had that one last chance to say hello?
 "Are you… could you be… in the least bit interested in me?" Before he could respond, she quickly continued. "Because I think we have something between us." She gestured with her hands. "An attraction I can't explain. I know we seem very different, and quite an unlikely pair, but… but I'm inexplicably drawn to you."
Imagine, for weeks you've been exchanging secret glances with a handsome, mysterious stranger on the subway. He's so very different from you, in every way. Everything about him screams danger in that, oh, so sexy manner. Chances are your paths would never meet. Yet, no matter how your work day went, you could always count on him being on the very same train, in the very same seat across from you, making you feel like the most desired woman in the world.
What would you do if suddenly all that was about to change? What if a dramatic switch in your daily commute would alter your route in such a way you might never see each other again? Would you simply let it happen? Would you let all those late night fantasies go to waste or would you be brave enough to do something about it?
Jesse Rain, the drummer for the Toronto-based Goth band, These Bones, and Beverly Sparrow, legal secretary, couldn't be more different, yet their attraction to each other is undeniable. Casting seductive glances at each other is their only form of communication. That's good enough for Beverly because anything more would be too scary to contemplate. But when she's faced with the prospect of never seeing him again, Beverly forces her fears aside and does the unimaginable. She asks him out on a date!
Read Jesse's Reign.  Get it here:
Amazon:
US   CA   UK   AU

Apple Books:
US   CA   UK   AU
Smashwords   Kobo   B&N   Google Play

READER REVIEWS
---
5.0 out of 5 stars
★ ★ ★★ ★
A HOME RUN!
Jan. 16 2016
By Caryn Denny
Format: Kindle Edition
Verified Purchase
Jesse's life is about to change by the fateful meeting on a subway ride! Jesse's character in this story was so much different than I expected! He is still the quiet "thinker" of the group but, wow, rile him up or frustrate him and the man becomes quite assertive! Which happens to be a great treat in the bedroom! His sister, Laura, becomes a total bitch but not because she doesn't like Beverly but because she is frightened of losing Jesse. She has to learn to trust Jesse and accept his love for Beverly. Jesse is also stuck on believing that his heritage is how people perceive him. All in all I loved this final (?) book in the series. Maria has hit this one out of the ballpark!!
5.0 out of 5 stars
★ ★ ★★ ★
What follows is another sweet but hot story about how opposites…
By Mrs. A. Christie on 5 Jan. 2016
Format: Kindle Edition Verified Purchase
Another lovely story from Maria about those naughty Goth lads and their lady friends. Jesse is the drummer from the band and quite a sensitive soul, who likes to steal a quick flirty look at Beverly who waits for a different train on another platform every day. Beverly is another sweetie who likes to sneak looks at the 'slightly different' but gorgeous man on the train platform, but when her job changes and he thinks she may never see him again, she decides to take a chance and engineer a meeting with him. What follows is another sweet but hot story about how opposites can and do attract and the importance of family and friends, with plenty of chances to catch up with the other characters we all know and love so well!
I have a feeling this may be the last in the series, but it would be great to catch up with all the characters again soon. Thank you Maria for another lovely read.
5.0 out of 5 stars
★ ★ ★★ ★
Another great book from a brilliant author.
By Teresa Jensen on January 7, 2016
Format: Kindle Edition Verified Purchase

Maria Bernard really knows how to write a love story. The Goth guys of These Bones are HOT and very special. With two of his band mates married and the other engaged, Jesse buys a house and moves to live on his own. He is happy but wonders what he is missing, his friends are so in love, yes and the ladies in their lives are main stream gals. Beverly takes the subway to work everyday. She has noticed a gorgeous man with long dark hair and dressed in black looking at her the past few weeks. Jesse is taken by Beverly's beauty and longs to speak to her. Beverly finds out that she will soon be commuting to another location, a new office she will be working in. So, she finds the courage to ask Jesse to dinner. The two hit it off and their relationship very quickly becomes serious. The band is supportive but Jesse's sister is not. The couple has some ups and downs but their love is strong, read this touching , sexy story and find out about the wonderful Goths and how they love their women. Thank you Maria for another escape into the romance of These Bones.
♡༻♫༺♡༻♫༺♡
4.0 out of 5 stars
★ ★ ★★
Goth with Heart
By Kara's Books on April 1, 2016
Format: Kindle Edition
Verified Purchase
Jesse is the last single member of the Goth Band These Bones. While taking the train Jesse notices a beautiful girl sitting across from him, in fact she has been watching Jesse as as well. When circumstances change ,Beverly thinks fast to introduce herself to a more than thrilled Jesse. What happens is love at first sight, helpful friends,meddling siblings and a HEA. While I thought the last few chapters felt rushed, Jesse & Beverly prevail. Would love more on These Bones & their women.
♡༻♫༺♡༻♫༺♡
4.0 out of 5 stars
★ ★ ★★  
Another wonderful story where opposites attract
By Anna Bax on June 5, 2016
Format: Kindle Edition Verified Purchase
Jesse's Reign is another great addition to the These Bones Rockstar Romance Series. Each of these goth guys sound so sexy, and I have really enjoyed their stories.
Beverly and Jesse are an awesome couple, but they both have their insecurities. Between that, and the thoughts of others around them, I wasn't sure they were going to last.
I love the end of the story. Something I didn't expect happens and it was wonderful!
♡༻♫༺♡༻♫༺♡
Loving the Goths? Want More?
Check out: House of Goths
Have you met Sage, the original Gothstar?
Check out:  A Dream For Winter!