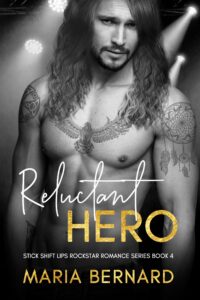 Reluctant Hero
by Maria Bernard
Stick Shift Lips Series, Book 4
She is his biggest fan.
He is her ultimate hero.
What is it they say? Never meet your heroes, you'll only be disappointed. Well, Kayla Reynolds learned that lesson the hard way.
Synopsis: Jamie Gale, the wild and unhinged drummer for the local rock band the Stick Shift Lips, is a self-confirmed bachelor living the rock star life to its fullest. A guy like him doesn't have time for starry-eyed fangirls like Kayla. Girls like her expect too much and he just isn't that way inclined. No way, Jamie prefers enjoying his fame with the multitudes of uninhibited groupies of who's favours didn't require more effort than a wink of an eye.
When his callous rejection of her at a meet and greet, sends her into the awaiting arms of an opportunistic sexual predator, in the guise of an up and coming rock star, poor Kayla finds herself in a heap of trouble.
Will Jamie get to her in time to be her real life hero? Will he finally put aside his lone wolf status and risk falling in love with his suddenly broken and bruised, biggest fan?
Reader Reviews:


Love SSL!!! – I loved this book as much as the rest of the series. The characters keep getting better and their lives more wonderful. This is an outstanding achievement for Maria Bernard and I look forward to all the books to come. I love these guys!!

Want to read the book? Get it here:
♡༻♫༺♡༻♫༺♡
Ready for more?
Check out the next in series!
Dream Crush, LA Summer