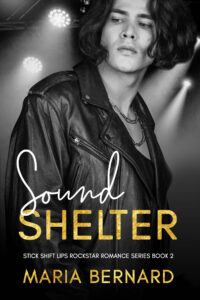 Sound Shelter
by Maria Bernard
Stick Shift Lips Series, Book 2
Even the biggest players will fall, when they meet their match.
Synopsis: When small town girl, Audrey Lane hopped on a plane, hoping to kick-start her life and promising new career in the big city of Chicago, the last thing she expected was to lose her luggage along with all of her worldly possessions and being abandoned at the airport by her hair brained rocker cousin.
The last thing Nick Arrow, the painfully handsome bass player needed was to be sent on a last minute errand to the airport to fetch his questionable friend's cousin.
Still reeling from the pain of unrequited love, Nick doesn't have any room in his broken heart for anyone other than his best friend's fiancé, but when he finds the fresh-faced, blue-eyed beauty, stranded at the airport, looking lost and so very much afraid, he's inwardly torn. Will he simply dump her off at a local seedy hotel or will he take her home and risk opening himself up to heartache once again?
Read the Reviews
Nick Arrow is one of my favorite BBFs (Book Boy Friends) of all times – I have read this book twice and Nick Arrow is one of my favorite BBFs (Book Boy Friends) of all times! I love Maria's writing style and have read all of them, with the Stick Shift Lips books being my favorites. They are all stand-alones but each book builds upon the next and you really get to know the characters through the series. If you love sweet romance with some angst and a few steamy scenes you will not regret reading this series!
Want to read the book? Get it here:
♡༻♫༺♡༻♫༺♡
Ready for more?
Check out the next in series!
Sweet Reprieve – Book 3