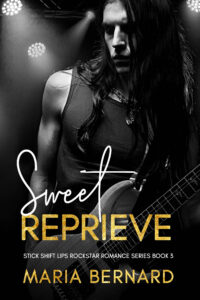 Sweet Reprieve
by Maria Bernard
Stick Shift Lips Series, Book 3
Nina is not who he wants.
She is who he deserves.
Synopsis: Heartbroken and betrayed by her cheating fiancé, Nina hops in her car and drives away from everything and everyone familiar, hoping to lose herself in the cold anonymity of big city Chicago. Having no prospects for a job and with very little money, her situation soon turns desperate. When fate intercedes and her childhood friend, now married to a local rockstar, calls and offers her a job as a nanny to adorable twin baby girls, Nina jumps at the chance.
Little does she realize, that she's also about to take the biggest chance of her life on their guarded, introspective uncle, Chris Arrow, gifted lead guitar player for the Stick Shift Lips.
Nina isn't at all his type but Chris finds himself inexplicably drawn to the dark haired nanny with the sad eyes that mirror his own. They have nothing in common but disillusionment and broken hearts. Will that be enough to allow them to set aside their pride and grant each other a sweet reprieve from heartache and maybe even find true love?
Reader Reviews:
NINA HAS NEW DREAMS – Chris and Nina's story was pure heaven! Both meet as they are trying to get over their respective past relationships, both of which they had been mentally abused. Amazingly they were still able to trust and love. Nina knew Chloe as they both grew up together in a small town. Through Chloe Nina ends up being a Nanny to Audrey and Nick's twins but this eventually wears on Nina and Chris as she has never been able to see Chris perform. Another wonderful read from Maria Bernard! Now onto the next….!

Becoming one of my favorite series – I love this series and the characters in it. The story is a wonderful blend of love and the trials of being with a rockstar. Chris is a hoot and Nina is perfect for him. They make another great couple in the Stick Shift Lips family. I can't wait to read about Jamie in the next book.
Want to read the book? Get it here:
♡༻♫༺♡༻♫༺♡
Ready for more?
Check out the next in series!
Reluctant Hero – Book 4